ACS during Covid-19 Lockdown
During the Covid-19 lockdown Altrincham Choral Society has continued to meet 'virtually' rehearsing via Zoom as well as maintaining some of the sociable aspects of choir.
We also embarked on an ambitious recording project of Howard Goodall's new composition 'An Eastern Blessing' – the first mixed voice recording of this new piece, with a short intensive series of rehearsals. You can view the results here:-
Upcoming Concerts and Events
The Heavens are Telling
Sacred choruses classics and curiosities
14th November 2020  POSTPONED
St Peter's Church, Ashley Road, Hale, WA15 9BU
For further details click here.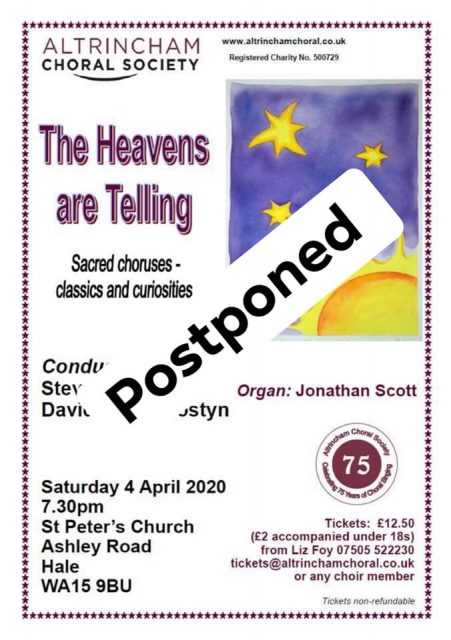 CANCELLED Sunday 12th July 2020 7.30pm
75th Anniversary concert
Elgar's The Dream of Gerontious at the Bridgewater Hall
Due to the Covid-19 restrictions unfortunately our 75th anniversary concert has been canceled.